Over 150 people took part in our webinar on 4 October to learn some expert advice on the top digital marketing jobs in the current digital economy from the CEO of Digital 4 Africa, Francis Waithaka.
There were attendees from different regions, including Kenya, Senegal, Nigeria, Ghana, India, and Saudi Arabia. The attendees, following live from various platforms, including LinkedIn, Youtube, and Twitter, presented their questions and critical challenges regarding finding digital marketing jobs.
The Digital4Africa team, in collaboration with AISEC, discussed some common themes during this one-hour session.
The webinar focused on these areas:
Who are the key stakeholders in the digital economy?
The key trends in the digital economy.
The Top 20 Digital Skills in Kenya.
A case study of how an e-commerce business has managed to hire and retain talent.
How to find digital jobs: tools and processes.
This article will expound on and summarize some of these critical areas discussed. So, find a comfortable position and grab a notebook.
Who are the Key Stakeholders in The Digital Economy?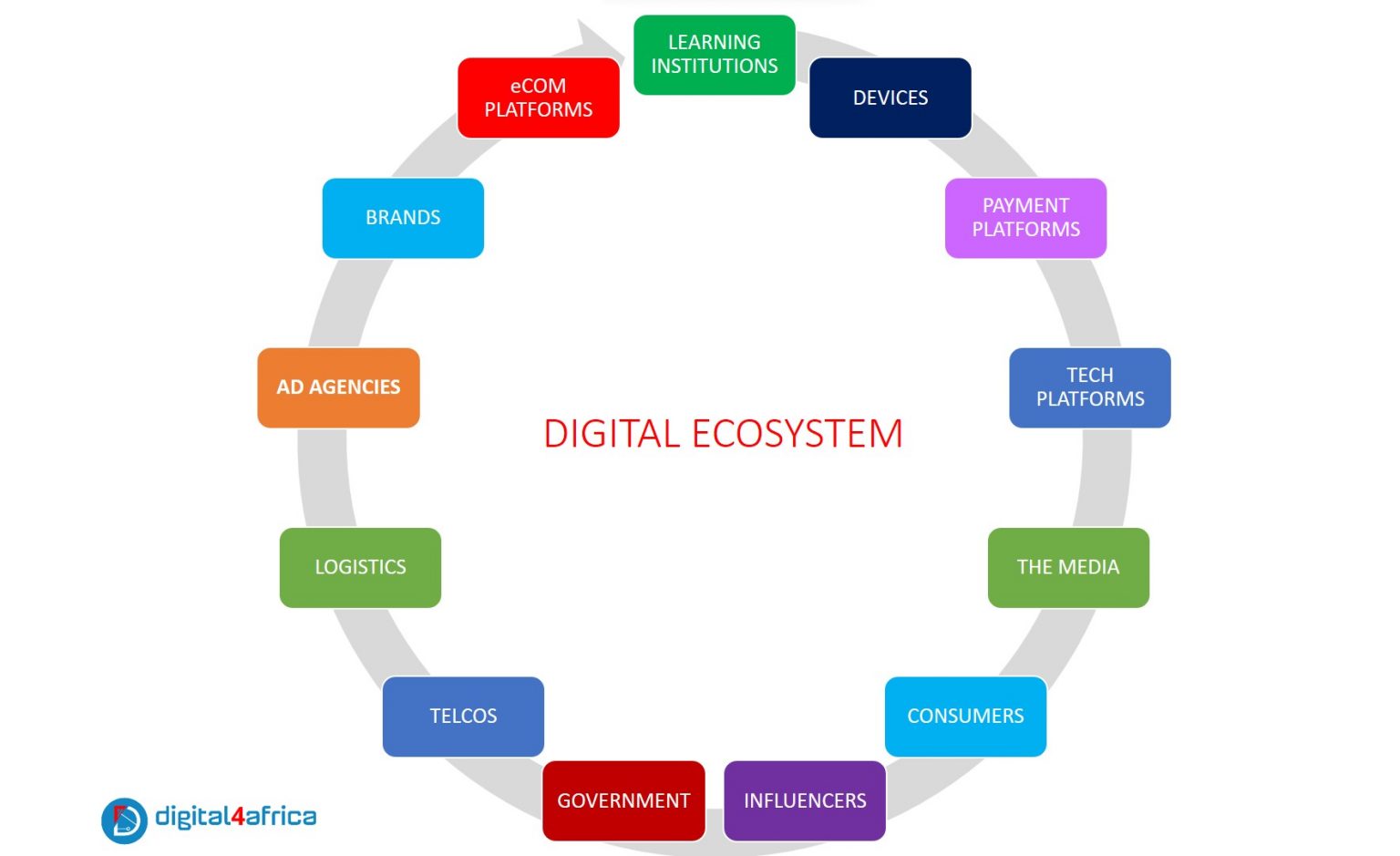 The digital economy is a large ecosystem with many stakeholders. The Digital4Africa infographic highlights each player and how they link to the digital ecosystem.
Some stakeholders include government institutions, learning institutions, eCommerce platforms, logistics companies, telecoms, regulators, startups, and international organizations. Each of them plays a unique part in shaping the digital space. Nonetheless, we classify essential digital economy stakeholders into three main categories:
Government institutions:
They set the regulations and policies that guide how businesses operate in the digital space. An example of a vital government institution is The Communications Authority of Kenya (CA), which regulates the communications sector. Others, such as The Kenya Information and Communications Act (KICA), provide the legal framework for online activity and guarantee consumer protection.
Private and Public Startups:
These are businesses built around new and innovative ideas. They are typically led by vibrant entrepreneurs looking to make a difference in the world. One example in Kenya is M-Pesa, one of the most successful startups. M-Pesa is a mobile money platform that allows users to send and receive money using their phones. Other startups include logistics companies like Glovo and Agencies such as Digitla4Africa.
International organizations:
These are organizations that are based outside of Kenya but have a significant impact on the digital economy. Some of the most important international organizations include
The World Bank: Which provides financing for projects that promote economic development.
The International Monetary Fund: This offers financial assistance to countries in need.
The United Nations: This is an international body that sets standards and best practices for member states.
What Are The Top Trends In The Digital Economy?
The digital economy is constantly evolving, and new trends are always emerging. Some of the most critical trends in the digital economy include the following:
Content and Audiences
With our digital environment continually changing and recent trends emerging, the need for content keeps growing. One of the most critical trends in the digital economy includes content and audiences. Businesses need to create engaging content that will capture their audience's attention, and they also need to find innovative ways to reach new audiences.
Design and Engineering
There is a need for UX Designers and Software Engineers to build digital products. As the digital economy continues to grow, businesses are looking for professionals with the skills to create innovative and user-friendly products.
If you are interested in a career in digital marketing, these are some of the skills in UX design and software engineering you may think to venture into. They are among the most in-demand skills in the digital economy.
Logistics and Distribution
The rise of e-commerce: With more people shopping online, businesses have had to adapt their strategies to meet the needs of digital customers. Kenyan enterprises need to embrace digital commerce to compete in the global market.
By embracing digital commerce, businesses can improve efficiency and reach new customers worldwide. Several platforms allow businesses to sell their products and services online, providing a wide range of services that help companies to grow.
Some of the most popular platforms for digital commerce include
Jiji: This platform allows businesses to create an online store. It provides a place to sell anything to customers. It is the largest free online classified site with a sophisticated security system.
Jumia: This is one of the largest eCommerce platforms in Africa. It allows businesses to sell their products and services.
Glovo: This is another large eCommerce platform that allows businesses to reach a larger audience.
Digital commerce is revolutionizing how Kenyan businesses operate, providing them with opportunities to reach new global markets. If you are interested in starting an online business or expanding your current business into the digital space, you should consider eCommerce.
PAYMENT INTEGRATION.
Payment integration is one of the digital economy's most critical aspects of a business. This means companies need to have a system to accept customer payments. Businesses can use several different payment methods, each with advantages and disadvantages.
Some of the most popular payment methods include
Credit Cards: Credit cards are one of the most popular. Many businesses accept them, and they are easy to use. The downside is that credit card companies charge businesses for each transaction.
Debit Cards: Debit cards are similar to credit cards but linked to a bank account. Businesses do not have to worry about paying interest on their transactions. The downside is that not all companies accept debit cards.
PayPal: PayPal is a popular payment method because it is widely accepted and secure. The downside is that it can be expensive for businesses to use PayPal.
Bitcoin: Bitcoin is a digital currency that is becoming more popular. It is secure and does not require any personal information from the customer. The downside is that not all businesses accept Bitcoin, and it can be challenging to find a Bitcoin ATM.
Each payment method has advantages and disadvantages, so businesses must decide which payment method is best for them. They also need to ensure that their payment system is compatible with the platforms they use to sell their products or services.
Data and Analytics to Unlock Value
Data growth: The amount of data generated online is increasing exponentially. This has led to a new data analysis industry, where businesses can use data to improve their operations.
Since data is becoming increasingly important in the digital economy, businesses use data to make better intelligent decisions, understand customers, and measure performance. Data analytics is a vital tool company can use to gain insights into its data.
DATA PRIVACY
If your business generates annual revenue of KES 5 Million or above, you must comply with the data privacy laws in Kenya. This means that you must take steps to protect the personal information of your customers. You must also ensure that your employees are aware of the data privacy laws and that they comply with them.
You can find more data privacy laws on the Communications Authority of Kenya (CA) website. The CA is the government agency responsible for regulating Kenya's telecommunications and information technology industries.
An overview of The Top 20 Digital Jobs Skills in Kenya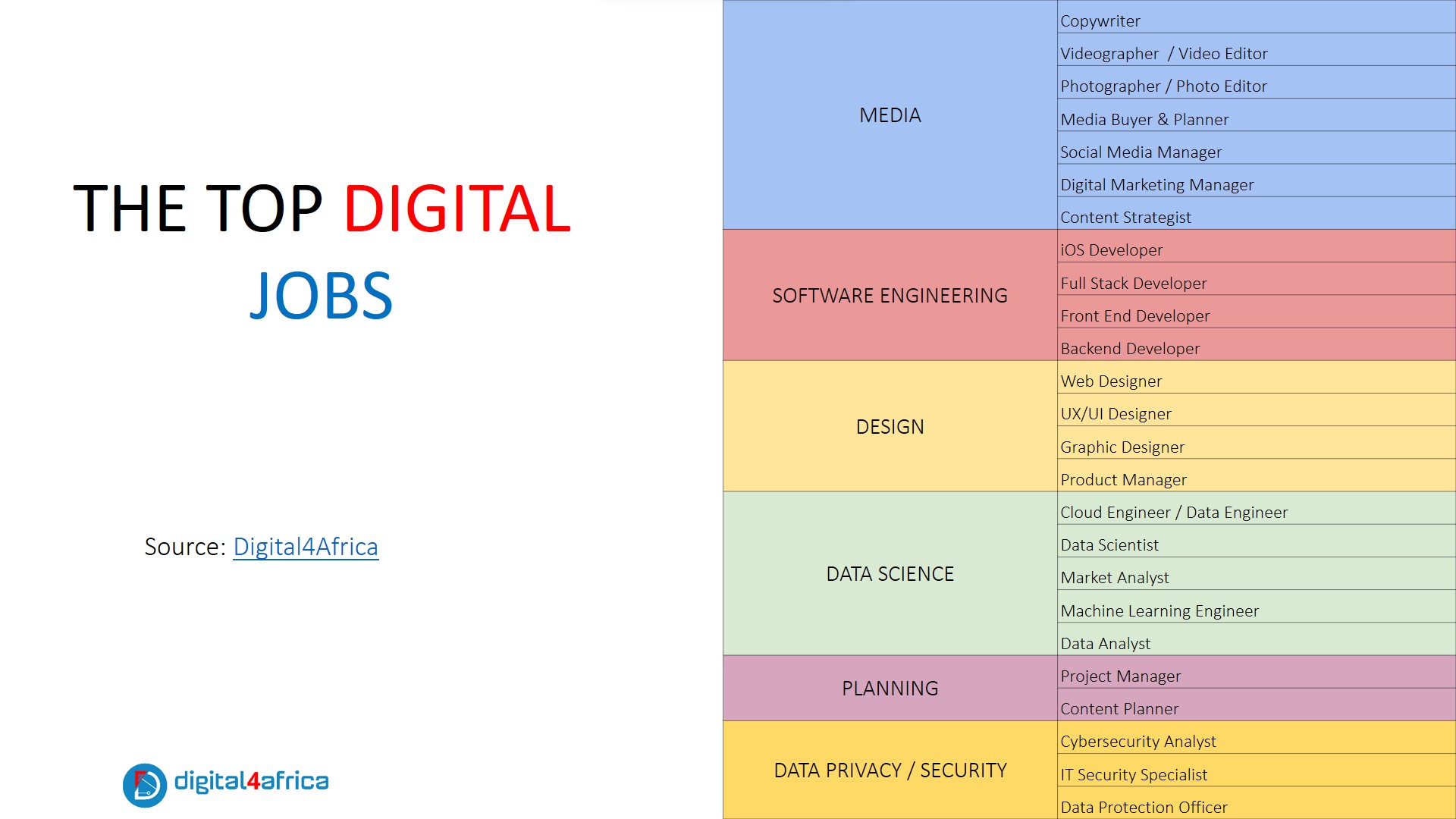 Now more than ever, running a successful business requires digital marketing skills. Whether promoting your products and services online or using social media to build customer relationships, having the right skills can make all the difference.
As a result, digital marketing jobs are rising in popularity. However, those interested in digital marketing jobs might not know where to start.
Digital marketing jobs are becoming increasingly popular as businesses realize the importance of having a robust online presence. There are several different digital marketing jobs, each requiring other skills.
We highlighted some of the most popular digital marketing jobs today, grouping them in several clusters, as illustrated in the image.
Here is an overview of some of these jobs and their requirements. You can search for your job category in the table below or scroll to review all job categories.
Digital Marketing Jobs in Media
Copywriter
Copywriters are responsible for creating compelling marketing materials such as website content, brochures, and email campaigns. They must understand the company's target audience and make a copy that speaks to them.
To be a successful copywriter, you need strong writing skills, creativity, and an understanding of digital marketing concepts.
Videographer / Video Editor
A videographer or video editor is someone who creates videos for a living. They may work for a company that produces marketing or promotional videos, or they may work for a television network or movie studio.
To be a successful videographer or video editor, you need strong video editing skills and an understanding of digital marketing concepts.
Photographer
A photographer is a person who takes pictures for a living. They may work for a newspaper, magazine, or advertising agency. They may also work for a company that sells photography services.
To be a photographer, you need to be able to use a camera and understand the basics of photography. You should also be able to use photo editing software to improve your photos.
Media Buyer & Planner
A media buyer and planner is someone who buys advertising space or airtime for a business. They work with the media to find the best prices and placement for ads.
To be a media buyer and planner, you must understand how advertising works. You should also be able to use software to create ads. You should also be able to negotiate prices with the media.
Social Media Manager
They oversee a company's social media accounts. They create and publish content and respond to comments and questions from customers.
For you to be a social media manager, you need to be able to write well. You should also be able to use social media tools to create and publish content. You should also be able to respond to comments and questions quickly.
Digital Marketing Manager
A digital marketing manager oversees a company's online marketing efforts. They create and publish content and track the performance of the company's digital marketing campaigns.
To be a digital marketing manager, you must have strong writing skills. You should also be able to use digital marketing tools to create and publish content. You should also be able to track the performance of digital marketing campaigns.
Content Strategist
A content strategist is someone who creates a plan for the content that a company publishes online. They decide what content to publish and how to publish it.
To be a content strategist, you need to be able to write well. You should also be able to use software to create graphics and videos. You should also be able to plan and organize content.
Digital Jobs in Software Engineering
iOS Developer
An iOS Developer is someone who builds apps for Apple products. They typically have a background in software engineering, and they need to be able to write code in Swift or Objective C. Additionally, they should be familiar with Apple's development tools and how to use them.
Full Stack Developer
A Full Stack Developer is someone who can work on a web application from start to finish. They need to be familiar with the front-end and back-end of a website and how to put everything together.
To become a Full Stack Developer, you must have skills in various areas, including HTML, CSS, JavaScript, PHP, and Ruby on Rails.
Front-End Developer
A Front-End Developer is someone who builds the user interface and interactivity of a website. They need to be able to write code in HTML, CSS, and JavaScript, as well as understand how to use these languages to create a responsive and visually appealing website.
Additionally, they should be familiar with design tools such as Adobe Photoshop and Illustrator.
Backend Developer
Backend Developers are responsible for the functionality of a website. They create and maintain the databases that store information, write the code that makes websites interactive, and oversee the entire website's infrastructure.
To become a Backend Developer, you must have skills in various areas, including HTML, CSS, JavaScript, PHP, and Ruby on Rails. Additionally, you should be familiar with web hosting and server administration.
Digital Marketing Jobs in Design
Web Designer
Web designers are in charge of the look and feel of a website. They work with graphic designers and programmers to create a visually appealing and user-friendly website.
To be a web designer, you need to be skilled in graphic design software such as Photoshop and InDesign. You should also be familiar with HTML and CSS, which are used to create the structure and layout of a website.
UX/UI Designer
UX/UI designers are responsible for improving the user experience of a website or app. They work with programmers and designers to ensure that all design elements are easy to use and navigate.
To be a UX/UI designer, you need to be skilled in graphic design software such as Photoshop and InDesign. You should also be familiar with HTML, CSS, and user experience design principles.
Graphic Designer
A graphic designer is someone who creates visual graphics for communication. They often work with companies to create marketing materials such as logos, websites, and brochures.
To be a graphic designer, you need to be skilled in graphic design software such as Photoshop and InDesign. You should also be familiar with HTML and CSS and design principles such as typography and layout.
Product Manager
A product manager is someone who oversees the development and production of a product. They work with designers, engineers, and sales teams to ensure the product is created and marketed effectively.
To be a product manager, you must be skilled in project management, business analysis, and marketing. You should also be familiar with software development methodologies and product delivery processes.
Digital Jobs in Data Science
Cloud Engineer
A Cloud Engineer is someone who specializes in working with cloud technologies. They are responsible for creating and managing cloud-based systems for their company.
To be a Cloud Engineer, you need to understand cloud-based systems and how they work. You also need to be able to manage and monitor these systems effectively. Additionally, it is helpful to have experience with coding languages and scripting tools.
Data Engineer
A Data Engineer is someone who specializes in data management. They are responsible for collecting, organizing, and analyzing data for their company.
To be a Data Engineer, you must have a strong understanding of data management principles. You also need to collect, organize, and analyze data effectively. Additionally, it is helpful to have experience with coding languages and scripting tools.
Data Scientist
A data scientist uses mathematics, statistics, and computer science to analyze and interpret data. They use this information to help businesses make better decisions.
To be a data scientist, you need to have strong math skills and be able to solve complex problems. You should also be comfortable working with large amounts of data and have experience with programming languages and data analysis tools, such as Python and R.
Market Analyst
A market analyst is someone who uses data to understand and track the performance of a particular market. They use this information to help businesses decide where to allocate their resources.
To be a market analyst, you need to have strong math skills and be able to solve complex problems. You should also be comfortable working with large amounts of data and have experience with programming languages and data analysis tools, such as Python and R. Additionally, you should understand economics and business concepts.
Machine Learning Engineer
They uses mathematics, statistics, and computer science to create algorithms that can learn from data. They use this information to help businesses decide where to allocate their resources.
To be a machine learning engineer, you need to have strong math skills and be able to solve complex problems. You should also be comfortable working with large amounts of data and have experience with programming languages and data analysis tools, such as Python and R. Additionally, you should understand economics and business concepts.
Data Analyst
A data analyst is a professional who helps a company make better business decisions by examining data and presenting their findings in an easy-to-understand way.
To be a data analyst, you need to have strong math skills and experience with statistical software programs such as SAS or R. You should also be able to communicate your findings to non-technical employees effectively.
Digital Marketing Jobs in Planning
Project Manager
Project managers are responsible for planning and organizing projects, ensuring they are completed on time and within budget. They also manage the team working on the project, ensuring that everyone is on task and all necessary resources are available.
To be a project manager, you must have strong organizational skills and excellent communication and problem-solving skills. You should also be able to work well under pressure and handle multiple tasks simultaneously.
Content Planner
A content planner is responsible for developing and implementing a plan for creating and publishing content. They work with teams of writers, editors, and designers to ensure that all content is high quality and meets the audience's needs.
To be a content planner, you need to be able to think strategically and have a good understanding of what makes good content. You should also be organized and able to manage multiple projects simultaneously.
Digital Marketing Jobs in Data Privacy/Security
Cybersecurity Analyst
A cybersecurity analyst is responsible for protecting an organization's computer networks and systems from attacks. They work to identify and mitigate vulnerabilities and protect against cybercrime.
To be a cybersecurity analyst, you need to have strong technical skills and knowledge of computer security systems. You should also be able to think strategically, problem-solve, and work under pressure.
IT Security Specialist
An IT security specialist, is responsible for protecting an organization's computer networks and systems from attacks. They work to identify and mitigate vulnerabilities and protect against cybercrime.
To be an IT security specialist, you need to have strong technical skills and knowledge of computer security systems. You should also be able to think strategically, problem-solve, and work under pressure.
Data Protection Officer
A data protection officer, ensures that an organization complies with data protection laws and regulations. They work to protect the privacy of individuals by ensuring that personal data is collected, used, and stored safely and securely.
To be a data protection officer, you need to have a good understanding of data protection laws and regulations. You should also be able to think strategically, problem-solve, and work under pressure.
The table provides an overview of The Top 20 Digital Marketing Jobs.
Is There a Demand For Digital Marketing Jobs?
As the world of marketing changes in Kenya, so do the skills that employers are looking for in their employees. With the rise of digital marketing, more and more companies are looking for individuals with experience and expertise in this field.
So, is there a demand for digital marketing jobs? Absolutely! The Digital for Africa team highlighted a case study that shows the need for digital marketing jobs in Kenya has grown by leaps and bounds over the past few years.
Case study: how an e-commerce business managed to hire and retain talent
The case study is of a company that wanted to hire the head of e-commerce. However, they could not find the right candidate. Hence, we had to train a candidate with the right attitude for them to handle the job requirements.
According to the Digital4Africa case, there are currently many vacancies for digital marketing positions in Kenya. And, with the continued internet and mobile penetration growth, this number is only expected to grow in the coming years.
So, if you're looking for a career in digital marketing, now is the time to start your search. There are plenty of opportunities for those with the right skills and experience.
Here is how you find these opportunities.
How and Where to Find Digital Jobs: Tools and Processes
There are a few different ways to find digital marketing jobs. However, the webinar showcases these two ways, Google and LinkedIn. You can watch the video to illustrate how you could use these tools to find the best digital marketing jobs in Kenya.
Finding the best Digital Marketing Jobs (Google Search Tips)
Searching for digital marketing jobs can initially seem daunting, but with the right tools, it's easy to find the perfect job.
By typing the job title followed by "jobs" and your country, you can bring up a list of all the latest openings in your area. Scroll through the results to see what fits your skills and interests, and apply!
The Best Way to Find a Job in the Digital Marketing Field on LinkedIn
LinkedIn is a social media site that many uses to find jobs. It can be an excellent tool for finding a career in the digital marketing field. Here are the steps to finding a job in the field through LinkedIn:
Create a profile on LinkedIn that showcases your skills and experience in digital marketing. Make sure to list any courses or certifications you have in the area.
Connect with other professionals in the field by joining relevant groups on LinkedIn. This will allow you to connect with people who may be able to help you find a job or give you advice.
Use the LinkedIn search feature to find jobs that match your skills and experience. You can filter your search results by location, company, and job type.
Apply for jobs that interest you by sending your resume and cover letter through LinkedIn. Many companies accept applications through LinkedIn, so this is a great way to get hiring managers to see your resume.
Stay up-to-date on the latest news and trends in digital marketing by reading articles and blogs on LinkedIn. This will help you keep your skills sharp and may give you ideas for new projects at your current job or ones you could propose if you are interviewing for a new position.
Other Ways to find Digital Marketing Jobs in Kenya.
Moreover, you can search online job boards, like Upwork, use job classifieds like Brightermonday and Fuzu, or search company websites for openings. Do not forget that networking with people in your industry and asking for recommendations is still a viable option.
Once you've found a few job openings that interest you, applying the right way is essential. Make sure your resume is up-to-date and tailored to the specific position you're applying for. And be sure to include a cover letter highlighting your relevant skills and experience.
Who is Eligible to Apply for Digital Marketing Jobs?
There is no one-size-fits-all answer to this question. The eligibility requirements for each digital marketing position will vary depending on the company and the job opening. However, most companies generally require a bachelor's degree for entry-level positions. You may need several years of experience in the field for more senior roles.
Digital marketing is a growing field with many opportunities for those with the right skills and experience. Using the tips and tools in this article, you can easily find digital marketing jobs matching your skillset and interests. So get out there and start applying.
Written by Caleb Mwenga, a content strategist at Digital4Africa. Francis Waithaka compiled the research. Source: Digital4Africa