Web design solutions for corporates and businesses
A website is more than just an information resource tool. It can be a very powerful marketing tool and a medium for enhancing the user experience for your customers. Let's build that website with proper content and neat design that meets functionality.
Talk To Us
What We've Built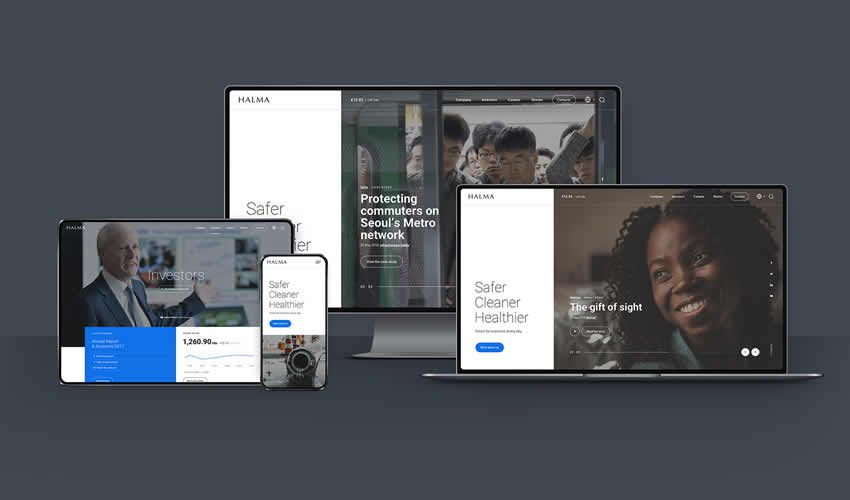 The Web Design Team
A decorated team of copywriters, web developers, marketers, business strategists, graphic designers and web designers in Kenya ready to help you achieve your goal.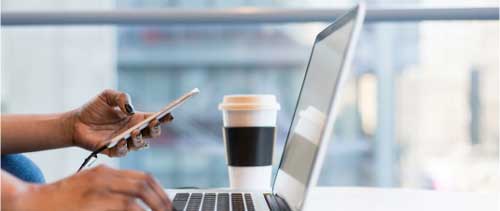 Brian Wamiori
Director In Charge Of Technology
Brian is the technology lead at Digital For Africa. He is a full stack software engineer who started as a graphic designer. He has demonstrated his expertise in technology. He understands software development, multimedia (video editing and photography) and UX design. He is a skilled trainer in digital marketing and a lecturer of computer science. His main focus is developing websites that concentrate on your visitors' needs. He addresses topics he is passionate about on LinkedIn.
Francis Waithaka
Business Strategy & Marketing
Francis is the team leader at Digital For Africa. He has years of experience in the Digital Space across all aspects of business. He is able to guide you on how to approach the digital ecosystem from a strategic angle. He is passionate about small businesses and is interested in helping them digitize their processes and become more efficient. He is also proficient in digital marketing training. He is a thought leader on twitter and addresses these challenges Twitter.
Collins Kiprono
Web Designer
Collins simply understands the architecture of building websites. He is keen on the approach taken in website development. He is not only talented in creating websites but connects between the business and the design. He has years of experience in CSS development and appreciates CMS development with a deeper understanding of WordPress.
Sigrid Muga
Project Management
Sigrid is our project manager at Digital 4 Africa. She is the contact person between the company and the client. She manages all aspects of communication and handles all requests by clients. Her warm personality and focus on fast execution makes clients know they can count on us.
Nicholas Kimuli
Software Engineer
Nick is our go-to guy for building any customization and backend functionality for your website. He is tasked with building custom plugins for WordPress and payment integrations.
Michael Kamau
Software Engineer
Michael is another team member who is proficient in web design. Having come from a graphic design background, he can combine the best of design and web development. He can write CSS and Javascript for your custom project.
Fiona Waithira
Copywriter
How you express yourself online is very important. Fiona helps the users of your website understand what you do and she puts it in a compelling but easy to digest way. She can write long-form content for your website and help you with SEO.
Jackie Nakhabi
Copywriter
Jacquie is experienced in copy, script and article writing, paying attention to your website users and their needs. She is also skilled in research and digital marketing strategy and has been able to raise the bar high for big brands ensuring that creative content being churned out is both engaging and above all, shareable.
Jeff Wanyama
Graphic Design & UX Design
Jeff is the guy who visualizes your website and mocks it up. His exceptional skills in graphic design make his work speak for itself.
Alvin Otieno
Web & Mobile Developer
Alvin is the type of guy who can build a website literally from scratch using nothing but PHP and Javascript. His focus is on visualizing data, mobile platforms, and APIs.
Good design is about giving attention rather than demanding attention
Web Design Projects
We have experience in designing websites for banks, NGO, consultancy firms, retail shops, e-commerce businesses and many more. Regardless of the size of your company, we can be your technology partner.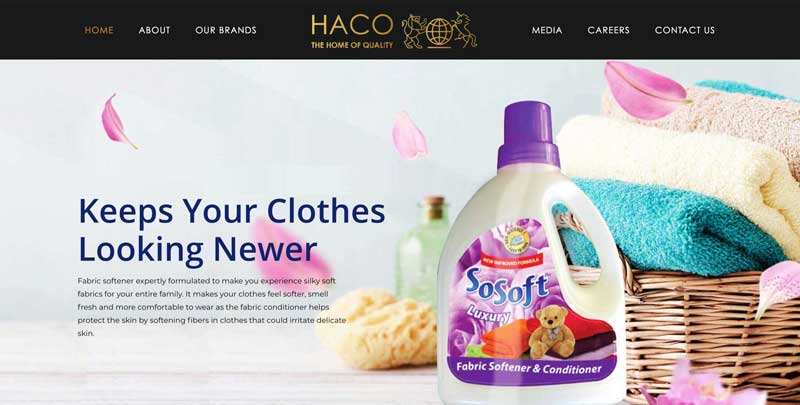 HACO Industries
HACO Industries is well known for creating a number of household products for the Kenyan and East African market. Their brands are; Palmers, Miadi, Amara, SoSoft, Sparkle, Ace and Ashanti Q. Digital 4 Africa was tasked to make a website for each brand starting with the primary HACO website.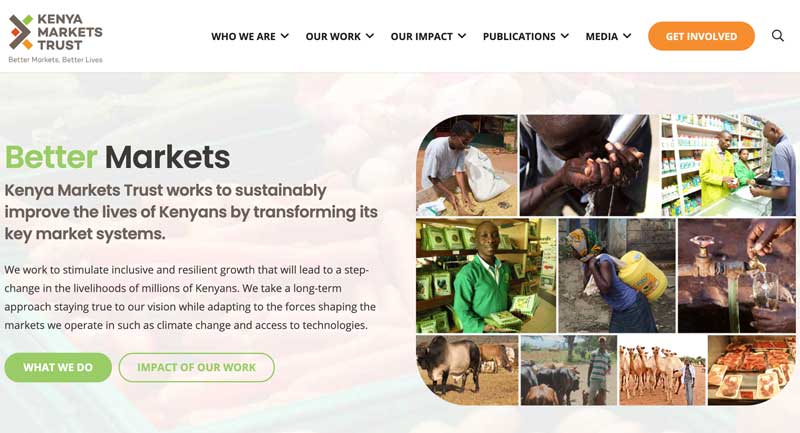 Kenya Markets Trust
KMT is a non-profit organization that focuses on improving market systems in Kenya. KMT had a wealth of information that could benefit farmers, agro-vets and other interested stakeholders. Digital 4 Africa developed a website that helps them showcase and distribute their content better.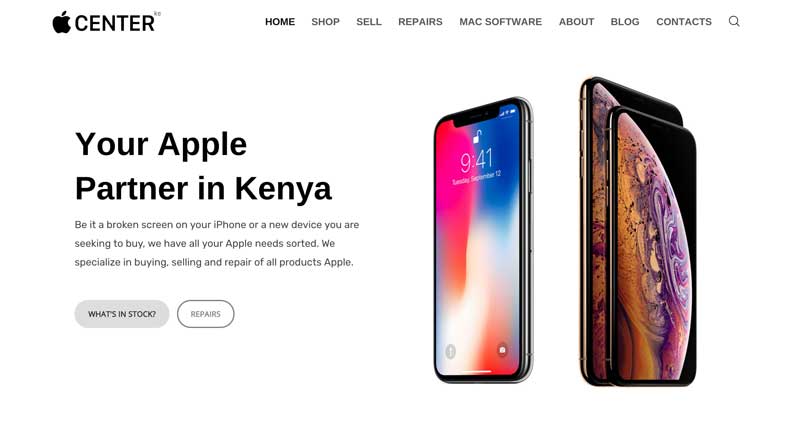 Apple Center Ke
Apple is renown for world class design. With their brand guidelines, we were able to build a world class website for the Kenyan market. They say simplicity is the ultimate sophistication. This project brought that saying to life.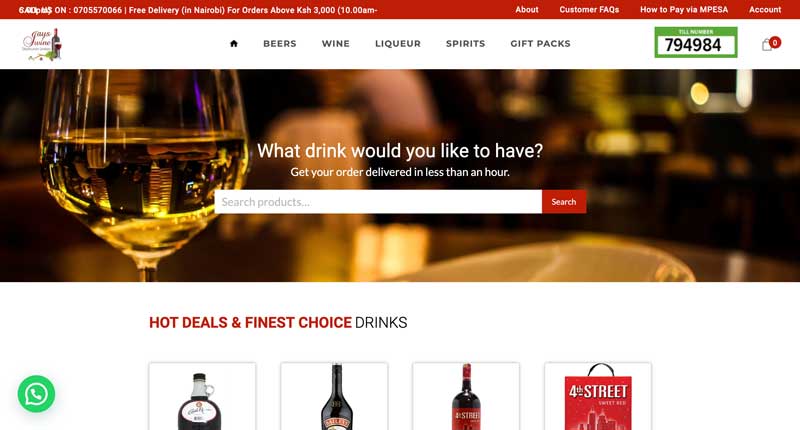 Jays Wines Limited
Jays Wines is among the largest distributors of alcoholic drinks in Kenya. Online sales were growing and it was necessary to create a better experience for their online customers on the website. Digital 4 Africa built an e-commerce website that helps customers interact with the products and make purchases online.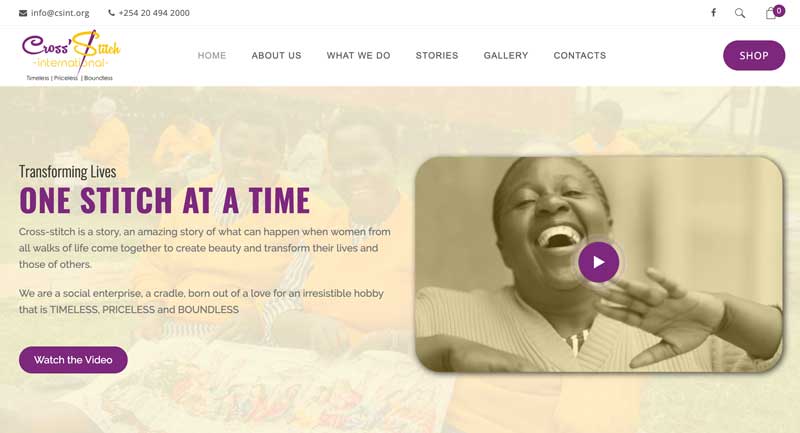 Cross Stitch International
An established Non-Governmental Organizations that didn't have online presence before. We worked on a modern website, image editing for their products and established a store with local and international payment integrations i.e. MPESA, Airtel Money, Credit Card payments e.t.c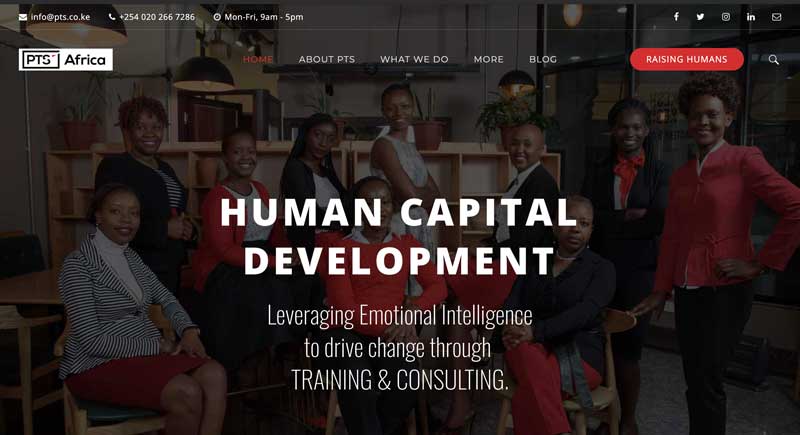 Premier Training Services
PTS Africa is a company that offers a number of consultancy services based in Nairobi, Kenya. For such a project, the major question we ask ourselves is; how can we be as informative as possible to the visitor? The visitor should immediately know that PTS Africa has a solution for them.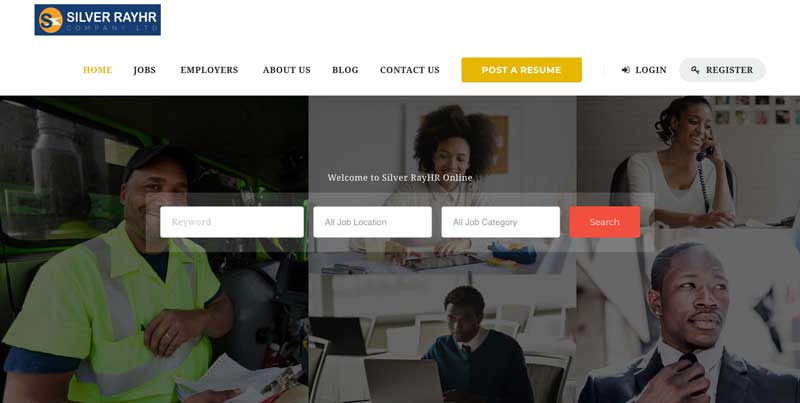 Silver RayHR
Silver RayHR is among the largest firms in Kenya that offer HR consultancy services. We build a fully functional job application website to aid in the recruitment process at the firm. We also conducted training for the sales team on how to target the recruiters more than job seekers.
Your website can be your number one marketing tool if it has good design and sufficient content
Our Approach
We recognize the difference between knowing something about web development and truly mastering it. All our websites must adhere to the following.
Business and User Research
To effectively execute any web design project, the first and most crucial step is research. We research to understand your business's unique case and also get to know your users better.
Initial design concept and CMS setup with WordPress
Building your website with WordPress gives you full control as the owner. You can easily make changes, add blog posts and even build up your SEO all without any complex code. We focus on web design that not only favors your users, but also the owners of the site. You have the power to manage and study your metrics or data with tools such as Google Analytics.
Among the most important factors in our development process is speed. We understand time is always of the essence. We ensure that the development process we use is fast and agile. We also involve you as the client in every critical step of the way to ensure you are satisfied.
Integration with ERP or POS for Ecommerce
Software development is our core business. We help businesses digitize their processes and become more efficient. Among the ways, we do this is by integrating your website and point of sale. Your systems can talk to each other and you can have all your crucial information in one place. With our inventory management system built on the cloud using Node.js and Vue.js, you can control your business shop and inventory in one place.
Client Relations & Communication
We believe how we treat our clients is a reflection of our values and attributes. For that reason, we treat communication with our clients very seriously. At each crucial step of our development process, we communicate with the client to ensure the web development output is satisfactory.
Frequently Asked Questions
How Long Does It Take To Create A Website?
It takes an average of 6 weeks to make a website. All you need is to have all the content ready. A good website constitutes a well-written copy and some high-quality images. Some websites can take longer than 6 weeks dependent mostly on the features requested.
How Much Do You Charge For Web Site Design?
Our packages start from Ksh. 185,000. This includes complete web design and development and training on how to maintain your website. We only charge more for website maintenance, payment integration, e-commerce capabilities and custom features such as WordPress plugin development or integration with another system. An estimate is created on request and can be sent to you. Fill in the form or call us. Details are at the bottom of the page.
Can I See My Website While It's In Progress?
Absolutely! In fact, we encourage it. One of our strengths is communication. Our project manager will reach out to you periodically to ensure both parties are in line.
Also, your website is will be viewable under a hidden address on the web. You can progress from anywhere in the world as we make updates. During this phase, we encourage feedback to ensure you get the product you had in mind.
Are Any Other Services Included In Your Web Design And Development Costs?
We charge extra for customization or unique features. However, our standard package comes with; website UX design, content revision, image retouching, in-site SEO, speed optimization, conversion optimization e.t.c.
Is WordPress reliable for building websites
Yes. Our web design and development service includes configuration of your email accounts, detailed monthly traffic reports and basic search engine optimization services. Basic SEO includes submission of your site to the major search engines, and the setup of your primary metatag information (Page Title, Description and Keywords). In addition, your site is built from the ground up with search engine friendly technologies and methods.
When Is Payment Required For Your Web Site Design And Development Services?
For standard projects, 60% of the quoted fee must be provided upfront. The balance shall be paid during handover. For organizations with a tendering process,  we require written consent for service provision, signing of an official contract and an official LPO.
What Is The Best Approach For Content Maintenance On My Site?
Digital 4 Africa offers all our clients training on how to manage a website once development is complete. For the next 30 days after the handover, we'll offer you free support on any issues related to managing your website.
For companies wishing to engage us for website management, a separate charge shall be effected.
We're happy to schedule a Free 5 Minute Consultation with you to discuss your website project. You can reach us on +254743830663 or via email at hello@digital4africa.com
Talk To Us
Let's start the conversation. Get a cost estimate for your website.